News
2018.9.24 News:ICMSSM2018 has been held in Shenzhen, China on September 22-23, 2018 successfully.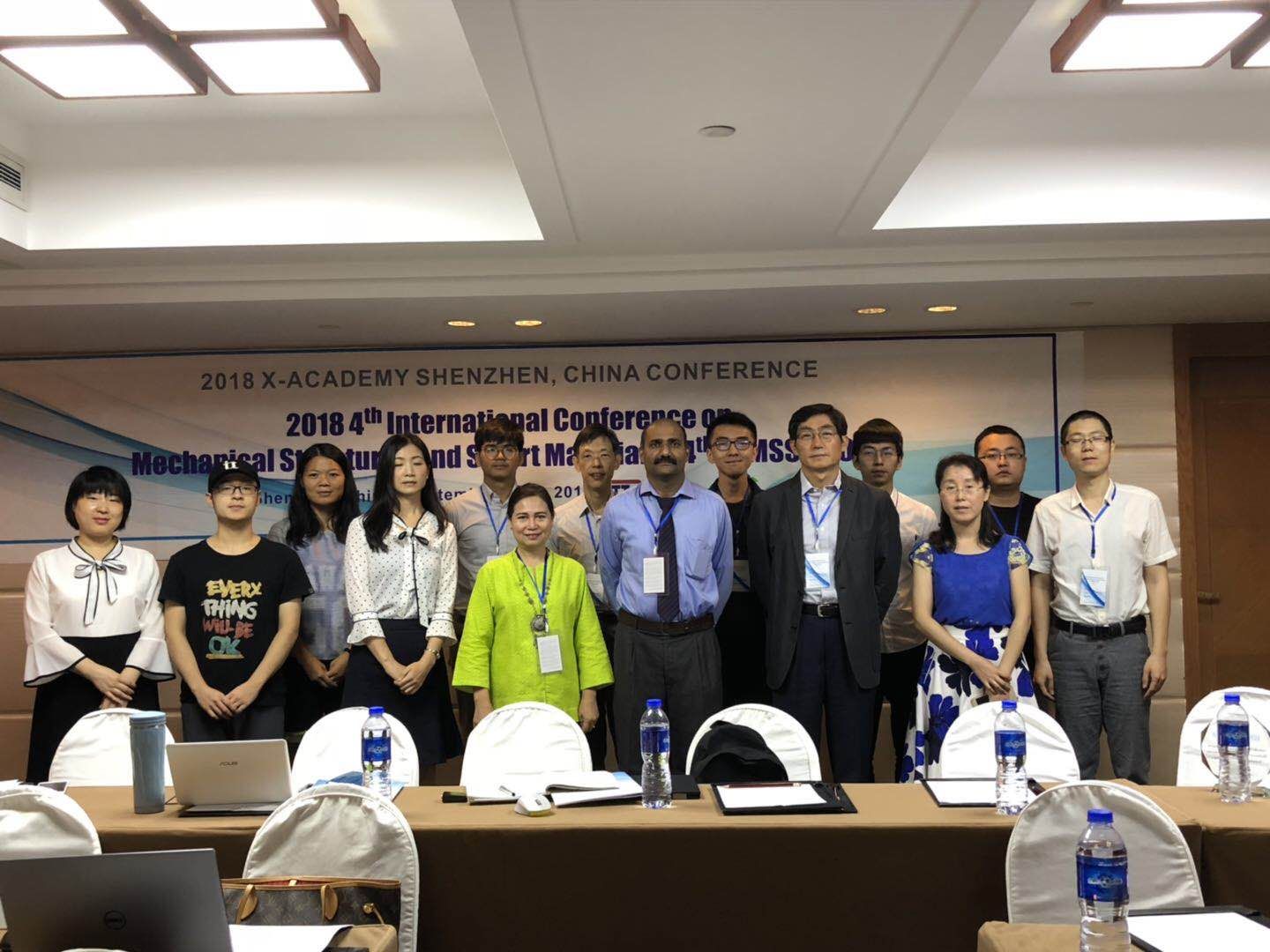 2018.9.17 News:The Notification of Acceptance of the Last round has been sent to authors who have submitted their papers before September 17,2018.Please finish your registration asap.Please feel free to contact us if you have any questions. [ 2018年9月17日前投稿的作者请注意,录用通知已经发送到您的邮箱当中,请注意查收邮件。请及时完成您的注册。如有任何问题请及时与会务组联系。]
2018.9.14 News: The conference schedule is ready for downloading.(keep on updating...)
2018.9.6 News: The conference simple schedule is ready,you can click SCHEDULE,and the detailed schedule will be posted on the official website in mid-September.
2018.9.6 News: 2018 4th International Conference on Mechanical Structures and Smart Materials (4th ICMSSM2018) will be held as scheduled, but the conference hotel will be changed from Shenzhen Jingtian Hotel to Shenzhen Century Plaza Hotel.
For details, please see the link http://www.icmssm.org/pages/venue.html
2018.8.31 News:Welcome Ms.Amany Moustafa Gouda to deliver a Keynote Speech on ICMSSM2018.More detail,please click .
[ 来日本Egyptian Atomic Energy Authority的Ms.Amany Moustafa Gouda将会在此次国际会议上,发表主题演讲,更多信息请点击]
2018.8.24 News:The Notification of Acceptance of the Third round has been sent to authors who have submitted their papers before August 17,2018.Please finish your registration before August 31,2018.Please feel free to contact us if you have any questions. [ 2018年8月17日前投稿的作者请注意,录用通知已经发送到您的邮箱当中,请注意查收邮件。本轮的注册截止时间为2018年8月31日,请及时完成您的注册。如有任何问题请及时与会务组联系。]
2018.8.17 News:The Fourth round of calling forpaper beings tomorrow.And the submission deadline has been extend to September 11 2018.Please grasp the chance and submit your paper.Thanks for your support to our conference. [ 4th ICMSSM 2018国际会议第四轮征稿明日开始,截稿日期为2018年9月11日,望大家把握好时间 ]
2018.7.25 News:Welcome Dr. Mohan Reddy Moola to deliver a Keynote Speech on ICMSSM2018.More detail,please click .
[ 来自马来西亚Curtin University的副教授Mikhail Pustovetov将会在此次国际会议上,发表主题演讲,更多信息请点击]
2018.7.23 News:The Notification of Acceptance of the second round has been sent to authors who have submitted their papers before July 16,2018.Please finish your registration before July 30,2018.Please feel free to contact us if you have any questions. [ 2018年7月16日前投稿的作者请注意,录用通知已经发送到您的邮箱当中,请注意查收邮件。本轮的注册截止时间为2018年7月30日,请及时完成您的注册。如有任何问题请及时与会务组联系。]
2018.7.17 News:The third round of calling forpaper beings today.And the submission deadline has been extend to August 17 2018.Please grasp the chance and submit your paper.Thanks for your support to our conference. [ 4th ICMSSM 2018国际会议第三轮征稿今日开始,截稿日期为2018年8月17日,望大家把握好时间 ]
2018.7.13 News:Welcome Professor Mikhail Pustovetov to deliver a Keynote Speech on ICMSSM2018.More detail,please click .
[ 来自俄罗斯Don State Technical University的副教授Mikhail Pustovetov将会在此次国际会议上,发表主题演讲,更多信息请点击]
2018.6.27 News:Conference official website has been updated today. [会议官网今日已更新升级]
2018.6.20 News:Welcome Professor Lee D. Wilson to deliver a Keynote Speech on ICMSSM2018.More detail,please click .
[来自加拿大University of Saskatchewan的副教授Lee D. Wilson将会在此次国际会议上,发表主题演讲,更多信息请点击]

2018.6.8 News:The Notification of Acceptance of the first round has been sent to authors who have submitted their papers before June 4,2018.Please finish your registration before June 15,2018.Please feel free to contact us if you have any questions. [ 2018年6月4日前投稿的作者请注意,录用通知已经发送到您的邮箱当中,请注意查收邮件。本轮的注册截止时间为2018年6月15日,请及时完成您的注册。如有任何问题请及时与会务组联系。]

2018.6.5 News:The second round of calling forpaper beings today.And the submission deadline has been extend to July 16 2018.Please grasp the chance and submit your paper.Thanks for your support to our conference. [ 4th ICMSSM 2018国际会议第二轮征稿今日开始,截稿日期为2018年7月16日,望大家把握好时间 ]

2018.6.1 News:The submission deadline of The First round of calling for paper is June 4, 2018.Please graps the chance and submit your paper .Thanks for your support to our conference. [ 4th ICMSSM 2018国际会议第一轮征稿,截稿日期为2018年6月4日,望大家把握好时间. ]

2018.5.7 News: As an official conference, 4th ICMSSM 2018 has been successfully announced on Trans Tech Publications website. More information, please visit: https://www.scientific.net/conference-2586 [ 4th ICMSSM 2018 作为TTP官方会议,会议信息已列于其官方网站,更多信息,请点击: https://www.scientific.net/conference-2586 ]

2018.3.16 News: All papers accepted by 3rd ICMSSM2016 have been successfully indexed by EI Compendex. More details, please click. You are welcome to submit your papers to 4th ICMSSM2018! [ 第三届ICMSSM2016所有文章均已成功被EI检索!详细信息,请点击。欢迎广大作者继续支持第四届ICMSSM2018! ]